Profile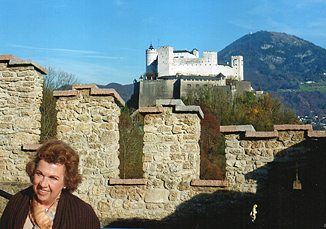 Hearing a performance of Mozart's Clarinet Concerto as a teenager made Elizabeth Mortimer want to learn to play that instrument and she long treasured an ambition to play in an orchestra. That dream was, however, not compatible with studying for a combined honours degree in foreign languages, linguistics and economic geography; nevertheless, while still a student Elizabeth Mortimer came to Salzburg to work first in the News and Current Affairs Department, then the Sound Archives of ORF (Austrian Broadcasting Corporation). This also marked the beginning of her contact with the Salzburg Festival as she was responsible for preparing recordings of Festival performances and their dispatch to radio stations throughout the world in the context of the International Programme Exchange.
After completing her studies and graduating from the University of Surrey in Guildford, England, Elizabeth Mortimer worked in the Press Office of the Salzburg Festival. She then worked for over twenty-five years as Salzburg Correspondent for ORF Radio Austria International. During this time she interviewed conductors, singers, instrumentalists and actors performing at the Salzburg Festival and compiled radio portraits and features. She also regularly contributed reports on a broad variety of topics to the daily programme Report from Austria on ORF Radio Austria International. When ORF closed down its international service Elizabeth Mortimer continued to report from Austria for the programmes Arts on the Air and Inspired Minds on the English Service of Deutsche Welle, Bonn. She also contributed to BBC Radio Three, BBC World Service, CBC Toronto.

As a translator and interpreter she is particularly closely involved with English-language publications for major arts institutions. She has experience in writing and recording texts for audio guides, DVDs, company image videos and documentaries.
Artist management is a further sphere of her activity: Elizabeth Mortimer has organized music and theatre festivals focusing especially on young talent; she worked for five years in the Salzburg Landestheater, and coordinated an international Mozart opera project with young singers.