Translations German - English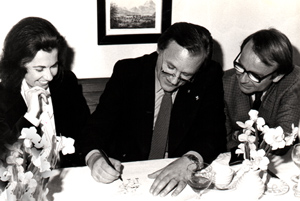 Do you have a company with an international orientation exporting goods and services, and do you want to make yourself known to internationally oriented clients? If you need translations, why not make use of the services of a professionally trained translator with English mother tongue?
I will be pleased to translate your texts for websites, programme booklets, brochures, panel texts for exhibitions, articles for catalogues and journals, subtitles for films and video, supertitles for opera performances and plays into English. You can rely on me to find the right tone and style for the relevant public and I can draw on a wealth of background knowledge and many years of experience.
My clients include companies whose products and expertise are exported all over the world, tourism organisations, cultural institutions such as festivals, the International Mozarteum Foundation, the Gesellschaft der Musikfreunde in Vienna and the Mozarthaus Vienna, international art galleries, universities of the arts and publishers. I can deal with demanding texts requiring specialist vocabulary; through my experience as a journalist I aim to ensure that texts read and flow well while adhering precisely to the content of the original.
If you would like to gain an impression of the quality of my work, please refer to the following text examples:
Reflections on Past and Present Maxims of Performance Practice
(Almanac, Mozart Week 2014)

Behind the scenes of a resurrection – interview with Marc Minkowski
(Almanac, Mozart Week 2015)

Bartabas: The Art of Counterpoint – the project Davide penitente at the Mozart Week 2015
(Almanac, Mozart Week 2015)

Supertitles for La finta semplice by Wolfgang Amadé Mozart

I hope I'll soon be able to add your name to my list of internationally oriented clients!



I look forward to hearing from you.